Blog
Budgeting for Your Exterior Re-Siding Project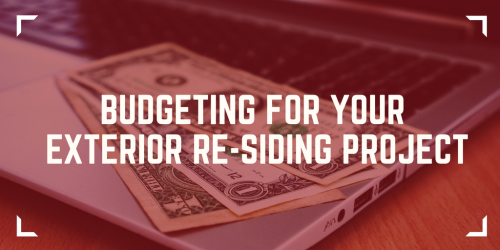 You've discovered your home needs new siding, learned what to expect when we re-side your home, and found out the benefits of re-siding your home with Strong Shield Siding. Now it's time to confront some hard numbers.
Re-siding your home is no small undertaking. It takes time and money to ensure the job is done right, especially if the contractor completes the job with care. High quality exterior siding may seem costly upfront, but the benefits of low maintenance, protection from severe weather, energy savings, and a lower home insurance rate mean the project often pays for itself.
There are a few things to consider when you're budgeting a home exterior replacement project. Since the project involves taking the exterior from your home, you may come across problems you didn't know were behind the existing walls. That's why we put together this guide to realistically budgeting for a home exterior replacement.
Choosing the best siding for your home & budget
The most obvious expense is the siding itself. Costs vary based on material, how much you'll be replacing, and your geographic region. We've put together this graphic to explain the pros and cons of each siding material for your new home.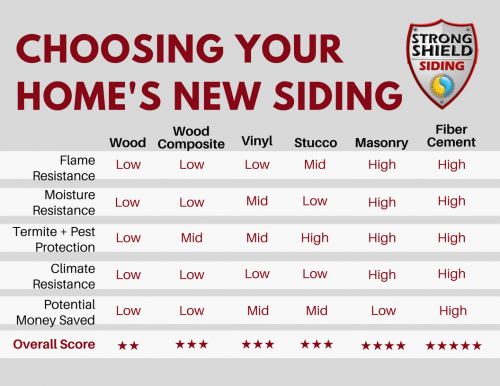 Here in New Orleans, a home's durability is extremely important. Every structural choice a family makes for their home will be tested thanks to the local weather. James Hardie Fiber-Cement Siding or Hardiplank has become popular in New Orleans and the Gulf Coast because of its durability. It's one sure way to ward off damage from punishing winds and the mold that comes after a hurricane.
Another cost benefit of paying for new siding is the potential for a lower home insurance rate. Insurance companies will re-audit your home once the re-siding project is finished, and if you've added fire or waterproof materials that weren't there before, your insurance rate could fall substantially.
Budgeting For Unexpected Costs During the Project
A major benefit of re-siding your home is our inspection, which uncovers problems you may not know your home has while the exterior is removed. If we come across any of the following during our inspection, we'll work with you to find budget friendly solutions:
Rotting studs
Structurally insufficient support beams
Moisture damage to wooden sheathing
Inadequate insulation
It's important to remember that Louisiana homes stand through severe weather, temperature changes and humidity. Most homes have incurred some type of damage in their time, making incidentals something to include in your budget for home exterior projects.
Additional Exterior Upgrades
If you're adding custom design elements to your re-siding project, our services include
Custom shutters
Pediments
New porch ceilings
Gutters
Other accents
Check out our areas of expertise on our services page. With the addition of these details, your costs rise. Accessories can up your home's curb appeal, but they will also add to your bottom line.
It's worthwhile to consider the pros and cons of adding cosmetic details before settling on your final plans. Strong Shield Siding representatives will walk you through the process of turning your ideas for a home redesign into budget-friendly realities.
As with most things, you get what you pay for with home exterior renovations. The first step is to choose an exterior siding contractor who will work with you to achieve your visual, safety and financial goals with your project. You can contact Strong Shield Siding for a free estimate at www.strongshieldsiding.net or by calling 985.327.8397