Blog
Hosting an Outdoor Holiday Party? 5 Things to Consider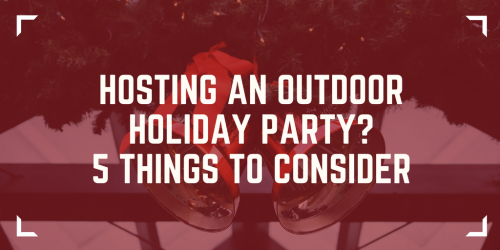 Louisiana homeowners take pride in their home's outdoor spaces. When the holidays roll around, it's difficult to say goodbye to your outdoor entertaining spaces because of the cooler temperatures, but you don't have to! We have a few tips to keep in mind when setting up for a winter outdoor party.

Temperatures

Though the temperatures vary day to day, Louisiana can get chilly once the sun goes down in the wintertime. Let guests know you'll be spending time outside, so they can dress accordingly. You can also purchase an outdoor heater, fire pit or light a bonfire. (See our section below on safety!)

Lighting

The sun sets earlier in the winter, around 5pm most nights. Any party you hold outside will need adequate lighting. For ambience, nothing beats string lights, but flood lights or lamps can offer more visibility. See our section below for safety precautions to take while setting up for your party.

Dining

If you're planning on eating outdoors, make sure you keep bugs at bay with a citronella candle or bug spray. Consider keeping food indoors, or within a screened-in porch.

Clean up after parties can be difficult. Set up for your party to avoid too much hassle by setting up obvious trash and recycle bins. Make sure to keep these far away from any heaters or fire sources!

Children

Kids outside after dark can be a safety hazard, especially if the supervising adults will be drinking and distracted. Have outdoor games on hand to keep them entertained and safe. Something as simple as a soccer ball, a few Nerf guns, or light-up jump ropes will engage kids of all ages.

Precautions
There are plenty of ways a party can turn into a disaster, making it important for homeowners to be mindful of guest safety.
Running extension cords or lighting across your lawn can be a tripping hazard. You can use wire hangers for a quick DIY fix you can: bend a piece of a wire hanger into a U shape and use it to secure the electric wire into the ground. This will keep the feet from catching the wire when guests are walking around.

If you are using flames of any sort, whether for heating food at a buffet or having a bonfire, keep track of children and pets at all times.

And of course, have a backup plan. Temperatures can dip too low, rain can roll through, or bugs can be too much of a nuisance. Make sure your indoor space is ready for a backup party.

If your home is ready for a party, but not the holidays, check out our tips about decorating safely.