Blog
Researching a Contractor for Your Next Home Renovation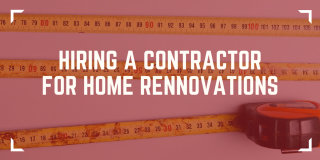 Whether you wish to remodel your home's exterior or need to have a busted pipe fixed, there are several things homeowners should be cautious of when hiring a tradesman. Not only will the company you hire being making changes to a major asset, but they'll also be involved in your home life for the duration of the project.
If you hire a contractor, they won't necessarily be the one always on the job site. They'll hire a trusted crew to do the work for you, and act as a liaison between you and them. If you hire a company, they'll have a few crews who always work for them, and you'll deal with those workers more directly.
We've put together a list of things to look for when considering hiring for a construction project at home. Asking a friend can get you a decent recommendation, but there are many reputable resources at your fingertips:
Angie's List
Better Business Bureau
Louisiana Homebuilder's Association
Each of these offers their own accreditation criteria, from verified user reviews to standards that help governing bodies determine whether a company makes good faith efforts to resolve customer complaints. You'll want to research 5-10 companies before choosing 2-3 to get estimates from.
How transparent are they about the work they do?
In the 21st century, every business should have a web presence where they display their projects and reviews. Construction based brands are no different! With a simple google search you should be able to find pictures of their previous work, links to businesses they work with (such as suppliers and cleanup crews), and customer reviews. You may also be able to read about projects specific to their specialty.
For example, Strong Shield Siding is the leading company in southeastern Louisiana for home siding projects. That's why we showcase our past work rebuilding New Orleans, blog about our proven system for protecting homes for the future, and proudly display our customer reviews!
What do people say about them?
Any contractor who's been in business for a while will have recommendations from past construction jobs. You can find some online at Angie's List, where homeowners have reviewed contractors for the past 22 years, or drive past addresses the contractor has worked on and shows you.
Pay attention to how they handle negative reviews, as well. Everyone makes mistakes, but a reliable construction company will have a plan in place for handling anything that doesn't satisfy homeowners. Take our 5 year labor warranty, for example. We're want our customers to be just as proud of our work as we are!
Are they licensed according to the Louisiana Board of Contractors?
It is absolutely important that you hire a licensed contractor for any work being done on your home. Attempting to save money by going with an unlicensed worker can leave you vulnerable to unfinished work, work that doesn't meet local building code, or no work done at all.
You can use the LBOC's search engine to verify the license of any contractor in the state.
What's their specialty?
If you want someone to re-hang your gutters, don't try to hire a contractor that specializes in painting. Check out what kinds of jobs the company does most often, and how they market themselves. If a company doesn't mention patio enclosures as a strong point in their flyers, they might not be the right fit for that particular job.
If they specialize in what you need, they'll know more about the permitting processes and have more time spent doing exactly what you want for your house. With experience to back them up, the perfect contractor can afford to be picky about the job they do for you.
What's your gut instinct telling you?
Once you've met with a few companies to get an estimate, you should consider your instinct as well. At the end of the day, you need to be able to trust the people who will be working on your house. Consider the following:
Did the contractor listen to your concerns?
Were they open to discussing the concerns you had, or were they dismissive?
Did they seem willing to communicate with you?
For more information about hiring a contractor to complete a project in your home, check out this brochure from the Louisiana Board of Contractors, "10 Tips For Hiring a Home Contractor"
Strong Shield Siding can honestly answer all these questions with positive reviews, strong references, accreditation by reputable homeowner groups, crews that have been a part of the company from its beginnings, and pride in the state of current and past job sites. Our proven track record means we're the highest quality choice for re-siding your house in Southeast Louisiana.
Cassio:
May 2007 - came to Georgia
Getting good answers about the company
I do the long warranty because i know what i'm doing and i trust what i do
Don't put hotard thing in it by name
Ask legnd about the analytics thing
Ask if there's an email list thing