Blog
Choosing Our Premier Re-Siding Package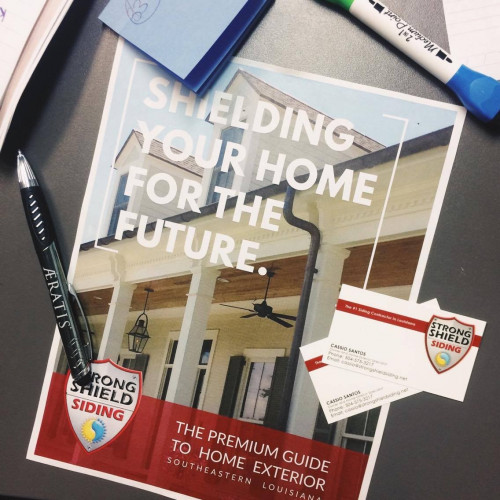 Throughout our many years of remodeling and replacing home exteriors in Southern Louisiana, we've developed a remodeling package durable enough to withstand nature's adverse conditions. Using this package, Strong Shield Siding guarantees peace of mind for homeowners.
By choosing only industry-leading materials, we are able to ensure the installation procedure will adhere to the highest industry standards. To prove our commitment to excellence, we offer a 5 year warranty on all of our labor. Strong Shield Siding is proudly the first home exterior contractor in Louisiana to make such an offer.
Strong Shield Siding's Mobile Showroom
Owning a home in Louisiana is something our clients take pride in, and we know they want to make the best informed decision possible. That's why we built the Strong Shield Siding showroom on wheels! Every aspect of Strong Shield Siding is right here, on your premises and ready for your consideration.
We created the mobile showroom to bring our expertise to the people, the New Orleans and greater Southeastern Louisiana community. We're here to help make your home beautiful and make sure it's in the best shape possible when storm season approaches.
Our trained staff of professionals can walk you through the best options for your home's exterior from the many options on show in the showroom. We've maintained a sterling reputation as the best work for a fair price. In nearly a decade of rebuilding homes throughout the New Orleans area, we've continued to keep our customers happy.
Give us a call. We'd love to show you our mobile showroom today!
Why Choose Strong Shield Siding?
Since 2009, Strong Shield Siding has been providing home exterior solutions and services such as fiber-cement siding, vinyl siding, gutter installation, exterior painting, screened porch construction, patio covering, pressure washing and more. Our goal is to always make our customers happy and bring them peace of mind by providing professional craftsmanship and using the highest quality products on the market.
Strong Shield Siding is the oldest company specializing in fiber-cement siding installation in the New Orleans Metro Area, putting us in the top 5 companies in South Louisiana with more than 3000 jobs completed in less than 5 years. Now, with 7 work crews working every day, we do residential and commercial work from small repairs to siding entire subdivisions' worth of homes and addressing all kinds of waterproofing solutions.
We're accredited with an A+ rating by the Better Business Bureau, registered with the Louisiana Licensing Board for Contractors, and are the only James Hardie recommended remodeler in the New Orleans area. These are just a few of our current certifications you can read about here.
If there's one thing Strong Shield Siding knows, it's customer service. We're passionate about every job. Leaving a lasting impression of professionalism and great service means the world to us. For that reason we frequently gather our technicians for training meetings and classes with manufacturers' representatives to teach the most advanced installation techniques. We are always looking for ways to improve our craftsmanship to best serve you and your family, making your dream home improvement come true!
Don't just take our word for it, read what our clients have to say!
"I have some experience with doing this type of work having grown up in a family of home improvement contractors. When we started, we knew there would be a few areas where plywood sheeting would need replaced. Casio managed this well, and the charges added to our contract were very reasonable. This was a challenging project due to the height of the side walls, and some areas had very tight spacing for any kind of scaffolding. Strong Shield did a great job in all phases of the project. They were very responsive with any issues raised, quickly responding and making adjustments when asked to do so. I highly recommend Casio Santos and Strong Shield." Read this full review on Angie's List
"Cassio and his guys did a wonderful job for us! He resided our entire house, replaced the porch floor and railings, painted everything, and replaced all our gutters. He is coming back to do a small unrelated repair this week on something done wrong in the initial construction of the house. My wife and I tried hard to find something we weren't satisfied with to get his men to fix since they will be here, but cannot find a single problem with his work. This was a large job on a multistory house and everything was done right the first time!" Read this full review on Facebook
"During the entire project, if I had any concerns or questions, Cassio was always available and/or would return my calls quickly, and was reassuring whenever my renovation worries took over. Upon completion of the job, Cassio did the final inspection with me and made sure that everything was done to my complete satisfaction. After all was said and done, I love how it all turned out and I now have the best looking house on the block!" Read this full review on Angie's List