Blog
11 Tips to Safely Decorate Your Home's Exterior for the Holidays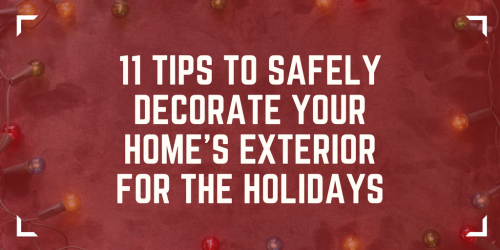 The National Fire Protection Agency estimates that 30% of all house fires take place during the holiday season. Whether your decorations go up the day after Thanksgiving or the night before, there are a few guidelines you should follow when you're decking the halls this year to keep your family safe.
Lights
1. Only use lights that have been safety tested. The light packaging should mention this if they have, and if not, a quick Google search or this roundup of the best Christmas lights can help you find out.
2. When using extension cords, never nail the cord directly into the wall -- this is a major fire hazard. Instead, purchase hooks to screw into the wall so you can hang the cord.
3. Take wind into consideration when setting up exterior lights, making sure the cords are securely attached to trees or your home.
4. Lights should not be left on while unattended, or overnight, in case of overheating.
Trees
1. If you use an artificial tree, look for one that is fire resistant.
2. Real trees are more flammable once they are dried out. Keeping your tree's trunk in a bowl of water can help it to stay alive longer, reducing your chance of fire.
3. Make sure ornaments are securely fastened to the tree with metal hooks or string. Children and pets may tug on the branches, causing glass ornaments to fall and break.
General Decorating Tips
1. Keep in mind that your family is not used to having decorations, or a tree, in the house. It is possible that children and pets will not be mindful of any changes in the layout of the home, so keep trees and other decorations out of walkways to avoid collisions.
2. Always follow safety practices when using ladders and tools to decorate. For example, have someone spot you when using a ladder to hang lights, in case you lose your balance.
3. Keep decorations out of reach of children who may think they are toys.
4. Avoid hammering nails into wires or damaging walls by using removable adhesive hooks instead of nails.
The holiday season is a fun and enjoyable time for families. By following these tips you'll keep your home safe from any unwanted disasters.