Blog
Exterior Nightmares: Gutter Failure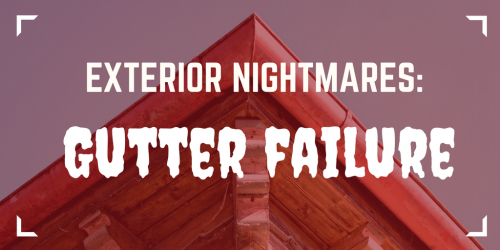 This month we've been focusing on the nightmares home exteriors can cause for the families that live in them. One of the most overlooked aspects of your home's exterior, the gutter system, can fail you in a few ways.
Gutters exist to complete one task: move moisture away from your home. This means they are integral to protecting your home's stability in the future. Unfortunately, many homeowners will face problems with their gutter system due to poor design, faulty installation of the system, or irregular maintenance.
The most common gutter problems faced by homeowners are:
Clogs from not regularly clearing the gutters
Gutters sagging or pulling away from the house
Leaking gutters due to holes
Faulty placement of gutters
Drains placed too close to the home's foundation
Lack of a gutter system
When moisture is allowed to remain near your home, you can have many interior problems as well as exterior problems. One of the most common issues faulty gutters can cause, interior mold, is covered in this blog post.
Gutters should be regularly cleaned and maintained to prevent buildup of dirt, leaves and also to allow for regular inspection. We recommend cleaning your gutter system 3-4 times per year for a home surrounded by trees, which is true for many Louisiana homes.
Proper gutter maintenance is the easiest way to prevent costly problems. Still, many homeowners overlook this tasks because of how dirty and time consuming it can be. If you're in this category, don't worry. We can install gutter guards to protect your gutters from the clogs, pests and other hazards so you don't have to worry. Contact us today to learn more.