Blog
Exterior Nightmares: Lead Paint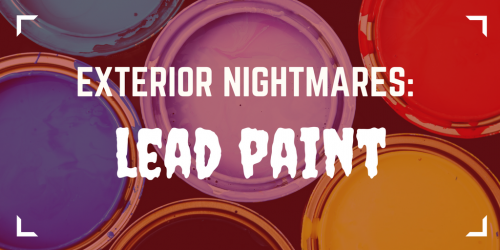 The historical beauty of New Orleans architecture draws many home owners to opt for older, traditional homes. However, many of these homes were built before 1978, meaning that those new home buyers could also be purchasing an unhealthy amount of lead based paint.
Lead based paint causes respiratory issues for those who come in contact with it regularly. According to the U.S. Center for Disease Control, lead poisoning is one of the most devastating environmental issues for persons younger than 6 years old, so consulting with a professional when preparing to repaint or remodel your home's exterior is critical for your family's safety.
Lead is highly poisonous, making it a danger to your family. It's impossible to detect lead through taste or sight. The symptoms of lead poisoning can include:
1. Fatigue
2. Sleep difficulty
3. Headaches
4. Constipation
5. Abdominal pain
6. Irritability
7. Difficulty paying attention
8. Behavioral issues
9. Delayed mental and physical development
10. High blood pressure
11. Nerve damage
12. Reproductive issues
Because of the popularity of lead as a material prior to the 1980s, you may have more than just your home's walls to worry about. Lead can be found in/on:
1. House paint
2. Plumbing materials such as pipes or faucets
3. Dirt and soil
4. Servingware made from pewter
5. Some kinds of batteries
6. Furniture
7. Toys made prior to 1978
8. Products made in other countries
You can learn more about state guidelines for handling lead based paint here.
Before Strong Shield Siding begins any home exterior project, we inspect your home for risks such as lead paint. If we determine that a home may have lead based paint on the job site, we'll follow industry standards for removing it. Our number one priority is the safety of those in your home and on our job sites.
The paint products we use to finish a project will be lead-free, so you can have peace of mind knowing that your family is not in danger. Contact us today to have a free estimate for your home's repainting job.