Blog
Exterior Nightmares: Mold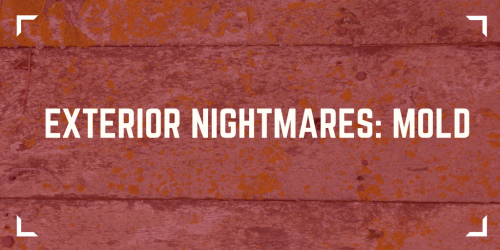 When we remove a home's exterior during a re-siding replacement project, we often uncover issues homeowners weren't aware their homes were facing. This can include moisture, mold, infestations and foundation issues.
This month we're going to cover 5 home exterior nightmares causing scary serious issues for homeowners in Louisiana. Make sure you're following along on our Facebook page so you don't miss out on the future posts in the series!
Exterior Nightmare #1: Mold
Louisiana homeowners know humidity, rain and severe storms can cause problems for their home. But what you might not know is this makes your choice of exterior siding one of the most important decisions you will make to protect your home from mold.
A home's exterior siding shields the interior from the elements, working together with other exterior elements such as overhang and gutters to transport moisture away from the home. If the outside of your home isn't properly maintained, or was made using faulty products, you can guarantee you'll have to deal with mold.
1. Mold spreads quickly, and can go unnoticed until it's a major problem.
Mold can quickly become a nightmare for homeowners because of how easily it spreads. If mold spores are in the air inside your home, they can land and grow on paper products, interior walls, and fabrics such as clothing and bedsheets.
2. Mold can be harmful to your family's health and well-being.
While many of your choices regarding your home involve appearance, your family's health is also a factor. Being exposed to mold spores can cause your family members to become ill, especially if you have a pre-existing condition like asthma or respiratory issues.
3. There is no way to eliminate mold spores, only to control the moisture levels in your home.
You can get a handle on the situation by taking precautions. While cooking, dishwashing and cleaning, you should use exhaust fans to reduce the humidity these activities create. During particularly humid days, use air conditioners and dehumidifiers to dry the rooms inside of your home. And make sure to run the fan in your bathroom during and after taking showers and baths!
4. Some exterior siding materials allow water through, but don't allow it to dry properly.
When deciding to side or re-side your home, research the materials available to you and pick the one best for your budget and region. We've shared a few tips on how to choose the exterior siding in other blog posts which you can read here.
You can also contact us to have one of our exterior siding experts take a look at your home and help you decide how to best shield it for the future. To request a consultation, click here.