Blog
Exterior Nightmares: Porch Hazards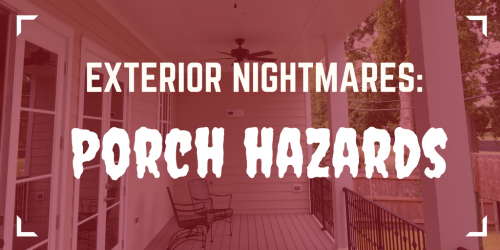 When we remove a home's exterior during a re-siding replacement project, we often uncover issues homeowners weren't aware their homes were facing. This can include moisture, mold, infestations and foundation issues.

This month we're going to cover 5 home exterior nightmares causing scary serious issues for homeowners in Louisiana. Make sure you're following along on our Facebook page so you don't miss out on the rest of our posts in the series!
Porches are wonderful outdoor spaces to share with neighbors and family, but sometimes, all that external space can pose hazards. In New Orleans, many homes retain their historic beauty at the cost of safety. There are several signs of deterioration that point toward a porch remodel.
1. Split or rotted wood
If the wood on your porch shows signs of wear and tear, it could be time to replace it. Wood that's split can cause splinters, or worse, can break completely. Rotted wood can look safe, but give way under a heavy footstep.
To test whether your wood is rotted or not, apply pressure. If it's spongy, that could be wet rot, and if it crumbles, that's a sign of dry rot. Contact a professional if you don't feel comfortable checking your own wood.
2. Loose handrails on stairs
Railings are designed to keep you safe, but they can pose a threat when they're not properly constructed or updated. If they give when you apply pressure, it's time to replace them.
3. Raised or loose nails
There are a few ways nails can trip you up. They can snag a bare foot or come out completely and become a hazard to children and adults alike. If you don't inspect your porch for loose nails regularly, you'll only find out when someone has been injured.
4. Damaged support beams
The structure of a porch relies on the strength of its support beams. If your porch sways or feels unstable, this could be a sign you need to rebuild or fortify your support beams. This could also be a sign your wood is rotting.
New Orleans is the best place to experience the great outdoors first-hand, and with a brand-new wood porch or deck, you'll have the perfect place to do just that. Whether it is reading, partying, listening to music, chatting with friends, or spending time with the family, you won't have to worry about finding the perfect place for it all. Strong Shield Siding is here to help you make your outdoor space your own. Call today to speak with one of our specialists about making your dreams into reality.