Blog
Exterior Nightmares: Windows and Doors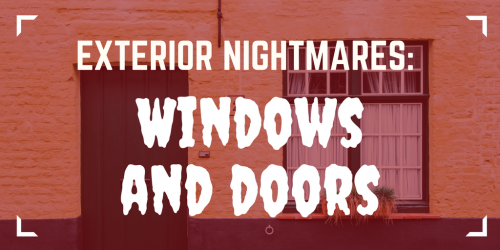 During the summer, opening windows and doors in your home can offer a relieving breeze. But once you close them, your home may not be as sealed off from the external elements as you think. Weakness in the openings of your home may leave it vulnerable to high energy bills, moisture, pests, and, in some cases, unwelcome intruders.
High Energy Use
If you've ever been surprised by an electric bill, you've probably considered the amount of energy your home uses each month. Most air conditioners work to keep the internal temperature at a number you set manually. This is what triggers your AC to turn on when in its "auto" position. If your home has leaking doors or windows, the unit will work overtime to cool the interior, raising the cost of cooling your home.
Moisture
Another danger posed by old or deteriorating windows and doors is moisture, a large issue in Louisiana. While most AC units work to "condition" the air inside your home, they can't combat the level of humidity we experience outside on rainy days. If your doors and windows aren't up to the task of keeping the outdoors out, this can lead to problems with mold, wood rot and foundation cracks for homeowners.
Pests
Ants, roaches and termites, oh my! There are some things about the great outdoors that need to remain outdoors. Because of the frequency at which many pests reproduce, it doesn't take long for a minor annoyance to become a major infestation. Tenting a house to remove pest infestations can mean weeks of dislocation, not to mention the cost! If you don't even let your problems begin by making sure your windows and doors seal properly, you won't have to deal with any of the hassle.
Safety
When an element of your home isn't well maintained, it poses a safety and security issue. A doorframe that has been broken loose will not only let air through, it could let unwanted intruders through as well. Similarly, windows that are falling apart can easily be broken or unlocked from the outside. We understand that as parents, many homeowners are always looking for a way to enhance security for their families. That's why we use top of the line products, while staying in your budget.
When you close your home for the evening to head to bed, you should be able to fall asleep without worry. If you have concerns about your home's windows or doors, check out this checklist to perform a inspection on your own. You can also contact us to have one of our exterior specialists come for a free consultation on how to better shield your home for the future.