Blog
6 Fall Home Exterior Maintenance Tasks You Shouldn't Skip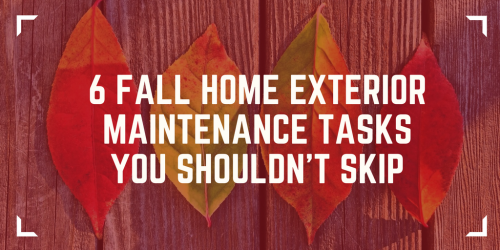 Even though Louisiana's fall season only means temperatures dip down to the 70s, trees begin shedding their leaves as early as October. This can spell disaster for your house if you don't stay on top of your exterior home maintenance.
We've put together a checklist to help you get a jump start on your fall maintenance to-dos to keep your home's exterior in tiptop shape.
1. Clean and inspect gutters.
Your gutters have withstood the intense summer rains, now it's time to make sure they're up to task for the fall season. To clean your gutters, follow these steps:
Start cleaning your gutters near a downspout
Remove the larger debris like sticks and leaves
Flush out the rest of the dirt with a hose
This is a seasonal task, ensuring water is diverted away from your home. Failing to keep your gutters clean can mean interior walls are subject to damage from moisture, or cracks in your home's foundation.
If you don't enjoy cleaning your gutters, consider installing gutter shields, which keep large debris out of your gutters and help you by ensuring you don't have to do this dirty task every couple months.
2. Inspect trees
Trees and other greenery love summertime, so fall is a prime time to trim back any overgrown branches. Inspecting your trees also gives you time to remove any branches that may have broken but not fallen yet during summer storms. Large branches left to fall later could be a hazard to your home during severe winds, and at the very least will rot in your yard once they fall.
3. Inspect your home's foundations for cracks
This item is most important after the intense heat and humidity of a Louisiana summer. When houses shift and settle, moisture can accelerate damage to the interior. Regular checks for cracks in your home's foundation are important to ensuring your home is as safe as possible.
4. Inspect exterior siding and clean properly
Your exterior siding inspection should include an in-depth cleaning according to the types of siding you have. While it may be tempting to rent a power washer and blast away the dirt and grime of the summer months, there are several ways high-power water streams can damage your home's exterior. For instance, it can strip paint from the material, loosen caulking creating space for air and moisture, as well as force water into the space between your siding and wood framing.
If you don't have experience or time to research how to clean your home's siding, it's always best to consult a professional or bring in a expert to clean your home's exterior siding.
Strong Shield Siding's premium re-siding package is a great way to make sure you can be free of siding headaches for as long as a decade. Visit our website to learn more about the re-side package and process.
5. Lawn Maintenance
Periodically during the fall season, make sure you're raking and removing leaves from your lawn. This helps your grass grow back even stronger in the spring, and lessens the possibility of insects finding safe haven in your yard.
6. Paint your home's exterior
The lower humidity and cooler temperatures of the fall are an opportune time to paint your home. A fresh coat of paint is a great way to boost your home's curb appeal (a driving factor in the selling/renting rate of most homes)!
Strong Shield Siding offers custom painting services, and partners with Sherwin-Williams to make sure you get the best coat of paint to protect your siding. If you find your siding needs to be repainted every couple years, it could be time to re-side your entire home.
Home maintenance is important for your resale value, lower insurance rates, and lower energy bills. Whenever you come across an issue with your home's exterior, call a number you can trust to shield your home for the future. Contact us today for a free project estimate, or visit our website to learn more about our home exterior services.