Blog
Choosing Exterior Siding? Here Are Six Things to Consider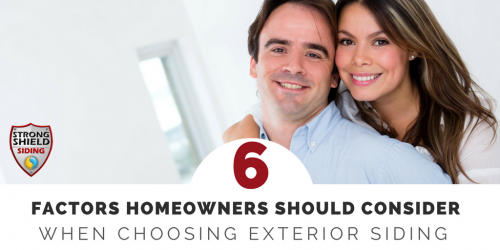 Exterior siding is your home's first impression on visitors and the first line of defense against the elements. As it's so important, there are several factors to take into consideration when choosing which material you'll use to side or re-side your home.
Once you've made the decision re-side your home, taking some time to research which exterior siding options are best for your home, your family and your climate will save you major headache in the future. Here's a breakdown of factors to look into before making a choice:
1. Cost
Establishing your total budget will help guide you through the re-side process. While it may be tempting to go with the highest quality siding, it may not be within budget. There are exterior siding options available to fit in every homeowner's budget.
Keep in mind that during the re-side process you may come across issues you weren't aware of in your home. This can include termite infestation, lack of insulation and dry rot to name a few. Each of these will add to the overall cost of the project. Because of this, we recommend staying under your total budget to leave funds for unexpected side projects.
2. Maintenance
Exterior siding materials vary in the cost and frequency of maintenance. Regular washing to prevent the buildup of algae, for instance, can be pricey if you don't have the time or resources to do it yourself.
Some siding materials may also need repainting more often than you'd like to deal with. Exterior paint on a fiber-cement siding can last up to 10 years, compared to wood siding which needs repainting every 2 years or so.
3. Insurance
One benefit of re-siding your home's exterior that you may not have considered is savings on homeowner's insurance. For example, some siding materials are flame resistant. If your home is at less risk for fire once re-sided, the insurance company will re-evaluate the property and adjust your rate accordingly.
4. Climate
It's no secret that Louisiana homeowners have to be wary of the external conditions. You'll need to consider UV exposure, temperature and moisture when choosing an external siding material for your home. We can help you decide what material is best for your home factoring in your budget as well.
5. Architectural Style
Your home's external siding is the first impression people have of your home, so you'll want to pick a material that lends itself to your home's existing style. Many homeowners worry that re-siding their exterior may cause the home to look manufactured or too modern.
At Strong Shield Siding, we take care to maintain the traditional style of New Orleans homes when re-siding. We also offer options to replace existing shutters, columns and posts, and more so you can have a classic look with all the benefits of modern exterior accessories.
6. Neighborhood
Homes which blend in well with the surrounding neighborhood sell and rent at higher prices, which is certainly something to consider. Looking around at your neighbor's homes, you can get an idea for which style or type of material your home would benefit from. Strong Shield Siding can help you match the style you like, while still creating a design unique to your tastes.
At Strong Shield Siding, we use industry leading siding materials fitting a variety of budgets and designs. For more information on our services and products, please visit strongshieldsiding.net. If you have any additional questions or would like a free estimate on an exterior re-siding project in the Southeast Louisiana area, contact us at 504.575.3217.