Blog
How We Became the Top Exterior Contractor in New Orleans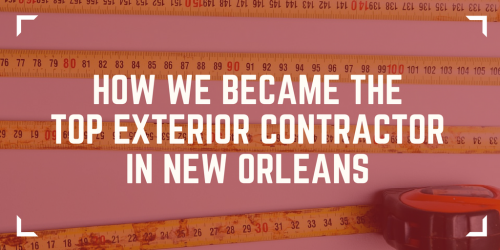 For nearly a decade, Strong Shield Siding has been the New Orleans area's leader in exterior home improvements and restoration. Strong Shield Siding is the premier exterior contracting company in the New Orleans Metro Area. This distinction has been earned through tireless efforts to provide our customers with the finest products and highest quality services and not settling for anything less.
If there's one thing Strong Shield Siding knows – it's customer service. We're passionate about every job. Leaving a lasting impression of professionalism and great service means the world to us. With those values in mind, Strong Shield Siding decided to provide customers with the best view into our world: we wanted to be different. We wanted to change how folks saw "those siding guys" – we wanted to change the game in New Orleans.
We're proud to hold the highest rating from the Better Business Bureau, Angie's List, Guild Quality and others. Our dedication to high quality business practices is evident across all facets of our business. You can read what our past clients have said about our projects here.
We've recently taken steps to inform New Orleans homeowners on issues surrounding home exterior remodeling projects through our weekly blog. Each week we cover a topic local homeowners may be facing, sharing our expertise so you can make the best decision for your family.
We offer a variety of handyman services for all your home renovation needs. Some New Orleans homes have been around for 100+ years, and have fallen into disrepair. We've renovated and repaired homes all around the New Orleans area, and our reputation speaks for itself. We take pride in our work, and are ready to help you see your house restored or renovated to its full potential.
Our trained staff of professionals can walk you through the best options for you and your family. We've maintained a sterling reputation as the highest quality of work, at a fair price. In nearly a decade of rebuilding homes throughout the New Orleans area, we've continued to keep our customers happy.