Blog
What Can You Expect When We Re-Side Your Home?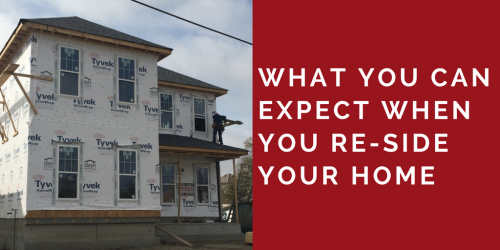 With all the problems poor quality siding can cause your home, it's important to make the effort to replace it. While this is no small undertaking, Strong Shield Siding makes replacing siding simple for homeowners.
Step One: Current Siding Removal
While covering up the problem might be a quick fix, it rarely solves the issue at hand. Starting with a clean slate allows the new siding to be installed as if it were your original exterior. This also gives us a chance to inspect the existing structure. Before we begin, we'll test the existing siding for lead paint, making sure to take any precautions necessary for the safety of your family and our workers.
Step Two: Existing Structure Inspection
Before the new siding is installed, we'll inspect the following parts of the existing structure for damage or deterioration:
Studs
Support beams
Wooden sheathing
This step is critical because of the possible damage or deterioration under the old wooden, stucco, or vinyl siding. This process ensures your home's new siding will not have to be removed later to address structural issues.
During this step we will review the insulation in your home to determine if it is adequate. If we find it isn't, we will offer a new insulation at an additional cost.
Step Three: Reassembling Your Home's Exterior
After inspections and repairs are completed, it's time to put your home's exterior back together.
First, we will apply the sheathing and ½" OSB or plywood to give the structure additional support.
Then we'll add Tyvek Vapor Barrier to make your home airtight, protecting it from external moisture which can cause interior damage.
We'll finish it off with Tyvek Window Tape or Fluid Applied to seal the windows and doors. Depending on your home's location, a fire-rated wall (?" Densglass) may be added to the walls to comply with new local building codes, at an additional cost.
Step Four: Installing Your Home's New Siding
Once your exterior is assembled, we will put the new siding in place. Strong Shield Siding follows all manufacturer's recommended guidelines to install James Hardie HZ10 Fiber-Cement Siding with HardieTrim or Certainteed Vinyl siding and metal trim on your home. As a bonus, the siding products we use come with a non-prorated 30-year warranty!
Step Five: Painting Siding and Trim
A fresh coat of paint will give life and color to your home. We'll paint the new siding and trim with Sherwin Williams Super Paint or Resilience Paint (which comes with a lifetime warranty). All Hardie products require caulking, spackling and painting. Strong Shield will provide a crisp, professional appearance to add to your home's value and curb appeal.
For your convenience, we also offer to paint sections of your home that have not had the siding replaced. At your request (and an additional cost) we can add a coat of special primers or mold additives.
Step Six: Installing Exterior Accessories
To bring the project to a close, we will take care of the installation of all your exterior accessories. These installments will not only add beauty, but also aid in protecting your home's exterior for years to come.
Seamless Gutters
Faux/Real Shutters
Screen Porch Enclosures
Patio Covers
Porch Floors
Handrails
Additional Accessories
Why Do We Do This?
By following this process, Strong Shield Siding is able to guarantee your home will be protected by the ultimate exterior barrier. You can feel confident in your investment when you choose Strong Shield Siding, because doing the job right helps us fulfill our industry-leading 5 year labor warranty.
A few more benefits of our start-to-finish process include:
Simplified remodeling process for the customer's full comprehension before consent
No discrepancies or disputes with multiple contractors and vendors
Invoicing from and payments to a single provider -- it will always ever be Strong Shield Siding -- no third parties
Avoiding miscommunication between multiple contractors, which can leave areas of your home's exterior vulnerable
Assurance that integrity and efficiency of the new home exterior system is not compromised. We maximize quality while minimizing headache during the re-siding process.