Blog
9 Issues with Your Historic New Orleans Home You Haven't Noticed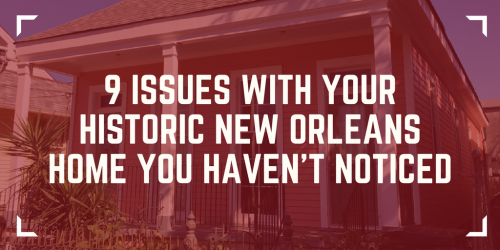 The city of New Orleans is known world-wide as an epicenter of culture and diversity. There's no clearer example of this than driving through any of our historic neighborhoods. Rife with creativity, it's clear that residents have taken pride in their homes since the beginning.
According to the City of New Orleans' Historic District Landmarks Commission, there are 7 distinct architectural styles used in this region. These include:
Creole
Greek Revival
Italianate
Queen Anne/East Lake
Colonial Revival/Edwardian/Neoclassical
Arts and Crafts
Eclectic/Exotic Revivals
The abundance of historic properties brings many tourists to spend days wandering around neighborhoods to enjoy the above styles. But there's a downside to that, too. Older homes can sometimes fall into disrepair and lose their original luster and charm.
Even with the best intentions, and proper maintenance, homeowners in New Orleans are likely to face one or more issues with their property. A few common problems facing homeowners in New Orleans include:
Cracked foundations
Structural problems
Dry rot in stairs
Many of the above listed issues come with a whole host of safety and health concerns for the families living in them. They can also be a major eyesore, depreciating the home's value should the owner wish to resell or rent the property.
Some New Orleans homes have been around for 100+ years, and have fallen into disrepair. Whether your siding is rotting and falling down or your roof has seen better days, we can help. We've renovated and repaired homes all around the New Orleans area, and our reputation speaks for itself. We take pride in our work, and are ready to help you see your house restored or renovated to its full potential. You can see some of our restoration projects in our portfolio here.